East Bali is the rural part of Bali, where you can find quietude and originality of the culture preserved well. Not to mention their nature, where you can enjoy the magical vibes both ocean and mountain merely in an hour trip.
This time we are going to visit Jagasatru Waterfall, which can be reached in thirty minutes ( 16km from Villa Gita ) by scooter. Google map will direct you towards Manggis Hill, where by you have to drive through the trafic roads toward west around ten minutes, and then cut the road to the right when you find the Manggis statue to begin start the drive on the long and winding village road for about 20 minutes
For the first ten minute drive, on the left and right of the road you can see rice paddies and a few of villagers house. Please don't take your eyes off the road, and stop the bike if you want to enjoy the scenery. The hill road is already paved but pretty extreme up and down, so please drive carefully.
Once you found the Golden Vishnu Statue,
then you are arrived at the entrance.
The fee to enter the area at the moment is as a donation. At the entrance area, there is spot in the corner to enjoy the best scenery of Manggis Bay
To reached the waterfall, you have to go down around 165 (one hundred sixty five ) stairs, whereby Green Caladium plant accompany on the left and right side of the stairs. Basically, the place is considered holy so therefore appropriate manner required such as no profane language or attitude ( skinny dipping,etc ). The area is neat and clean with bin prepared in each corner and stairs safely guide with hand railing.
The waterfall is about 25 ( twenty five ) metres in height and the pool underneath it is about 0.5metre deep and 10 sqm. The area surround it is lush green plantation such as Caladium, bamboo and other kind of trees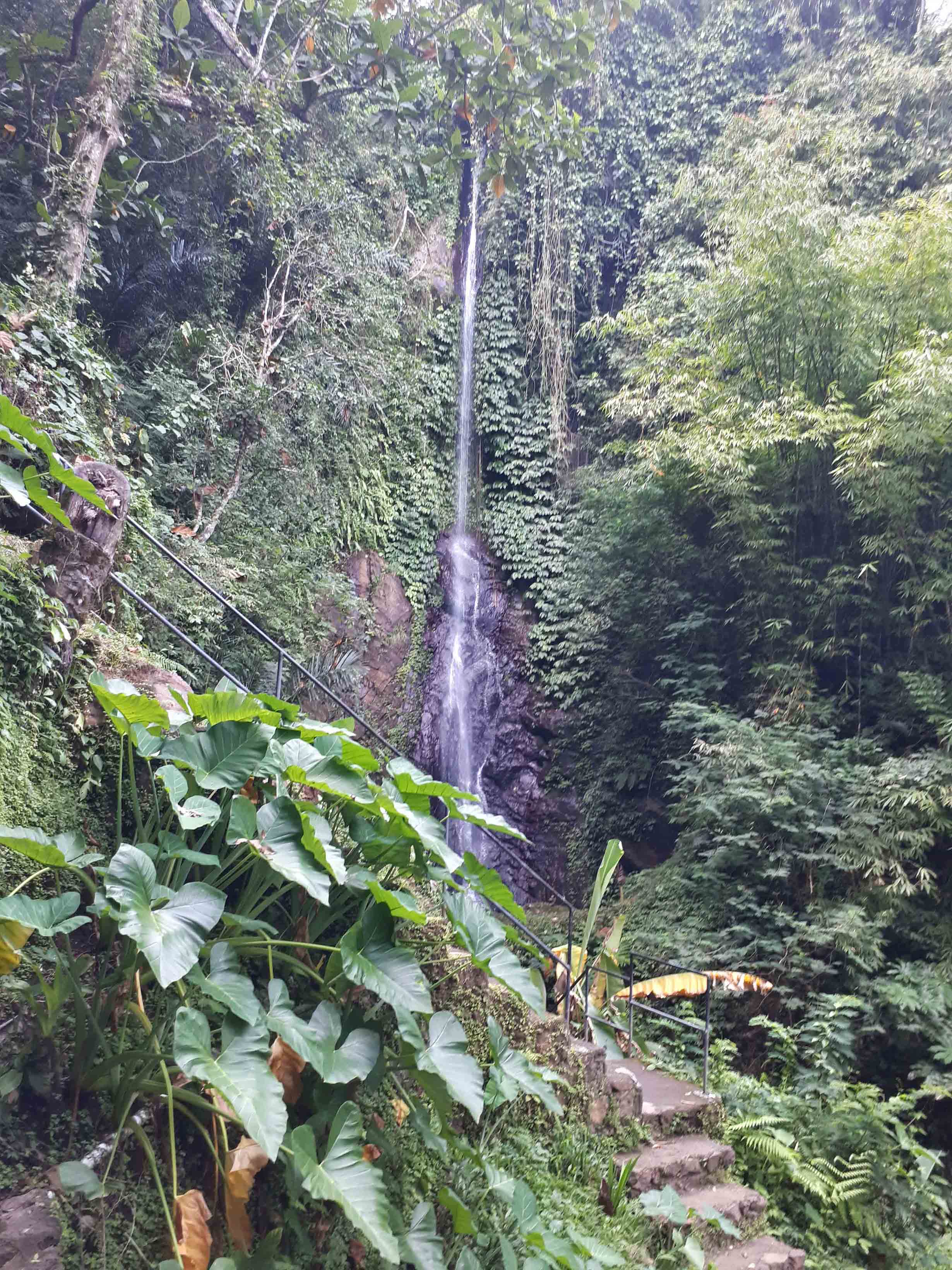 The village who taken care of the spot built another pool with five fountain streaming water from the waterfall. This pool also safe for children because its depth only 0.5metre but beware of the edge of the other side of pool as it is about ttwo metre down towards waterfall's creek.
The local people with Hinduims belief who come to this place usually put an offering at the Padmasana Shrine on top of the fountain after they wash themselves ( the terms is melukat ) to gain self-cleansing and blessing from Ida Sang Hyang Widhi Waca.
Waterfall definetly a must visit place if you want a not so touristy spot ( i was the only visitor when visited this place ), experienced a road less travelled, fresh air and water, jungley ambience and love to vibing with nature.
Tagged: Tags Bali Indonesia Jagasatru Waterfall Tourist Spot Bali